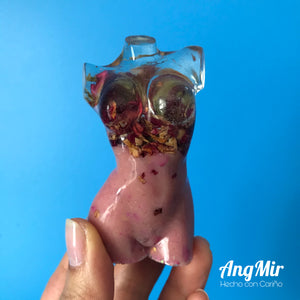 Venus the Goddess of Self Love, beauty & care 
Our 1st Goddess in the series 

These intention pieces are a tribute to the Goddess that we are! You're beautiful! Embrace it! Own it!!!
🙌🏽🙌🏽🙌🏽
Each crafted with setting postive intentions with a combination of natural ingredients, resin & extra love & care.  
Just as each one of us are unique so are these pieces.   They are made with the same intentions, no 2 will look exactly alike.   


approx 4" in height 
keep away from extreme heat 
As resin can be tricky to work with, some pieces might have small bubbles on outside surface.